African Union Youth Envoy Ms. Chido Cleopatra Mpemba receives 2022 Team54Project International Environmental Leadership Award
Written by Chigozirim Eke  
December 10, 2022  
Ms. Chido Cleopatra Mpemba, a Zimbabwean-born diplomat, received the 2022 Team54Project International Environmental Leadership Award, at the heavily attended Annual Award event organized as a side event during the Manevia Forum Summit a conference that gathers outstanding young African and diplomat persons from within and outside the continent of Africa to proffer solutions held at the United Nations Headquarters in New York from 28th – 29th of October, 2022.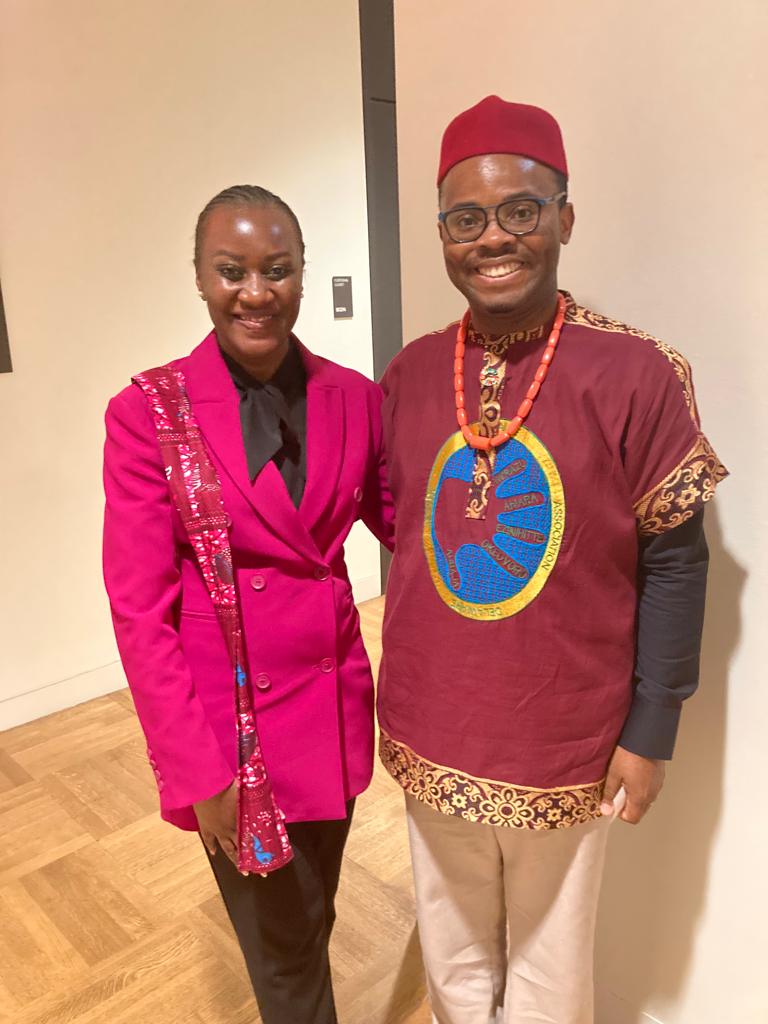 Ms. Chido Mpemba is currently the youngest diplomat at the African Union Secretariat where she is the Special Youth Envoy charged and given the mandate to represent African youth at all African Union and international organizations that are decision-making bodies. The office of Africa Union Youth Envoy was created following the extensive negotiations of young people, and AU member-nations ministers of youth. Their report ratified and adopted by the second Specialized Technical Committee on Youth Culture and Sports (STC-YCS 2) triggered the creation and appointment of an AU Youth Envoy to assist in championing youth participation in the sustainable development agenda for Africa.  
Ms. Chido Mpemba has been doing just that by engaging a lot of African Youth and Youth based organizations within and outside the continent to unify them to have a common purpose that sees Africa fully developed through an intergenerational approach.   
She was instrumental along with other African climate advocates for the renewed pressure to get the loss and damage package passed during the just concluded COP 27 in Egypt, working hand in hand with the African Union Commission leadership led by H.E. Moussa Faki Mahamat. They have been able to mobilize other African governments and agencies including citizens of the continent to get the approval done which was one of the hallmarks of the COP 27 outcomes.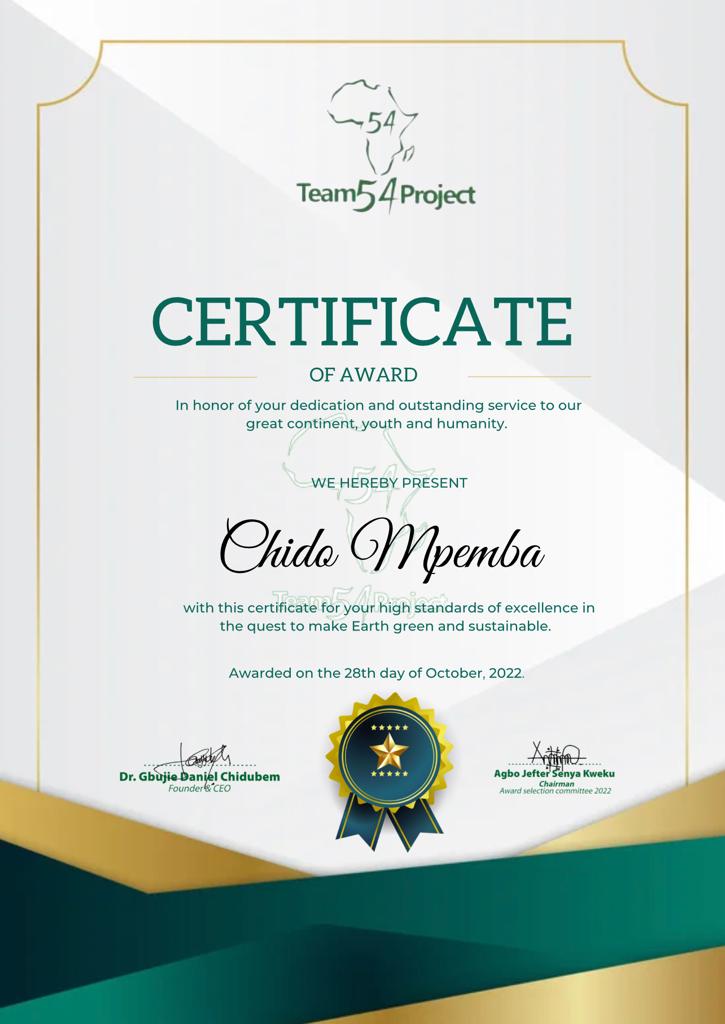 Her leadership within one year has raised awareness about youth inclusiveness, innovative mindsets, and roles African professionals can play in the project to see Africa fully developed before 2063. 
Ms. Chido promotes African values while coordinating and reconciling the various AU initiatives to meet the needs of younger Africans.  
"Ms. Chido stands out from a crowd of African leaders advocating for young people. Clearly, her dedication, commitment, and persistence to young people have made her an exemplary African leader whose effort needs to be supported and highlighted to inspire others in leadership positions and those outside of leadership circles to do more".  Dr. Gbujie CEO of Team54Project International said.  
In her acceptance speech, she thanked Dr. Gbujie and the staff of the organization for the honor bestowed on her, Ms. Chido said some core values that have helped position her actions include: empathy for others, integrity, and bringing everyone on board; these attributes require that we all work together to build the Africa we want to live inside.  
Team54Project Family congratulates AU Youth Envoy on this Award and wishes her well, as she pursues her vision of establishing a better Africa for all.  
#2022EcoScholarship  
#BuildClimateResilienceThroughEducation  
#Team54ProjectInternationalTakingTheLeadOnClimateEducation  
#EmpoweringOthersIsClimateAction