Team54Project International and Partners awards Scholarships to a Pre-teen student, 5 members and others
Written by Matthew Jason  
December 10, 2022  
Six members of the organization along with 2 nonmembers were awarded A Scholarship to be part of the "Succeed with Small-Scale Biogas Cohort Program". It is part of the organization's way of appreciating their climate action effort towards promoting a better greener sustainable world and also to begin to develop human capacity and resources through reskilling/upskilling of our members and community members from vulnerable society. This initiative was introduced by our Founder Dr. Gbujie Daniel and Dr. Kathy Puffer of the Mighty Network group, who are our organization's technical partners facilitating the biogaseducation.com scholarship training to inspire a new adapting and mitigating the negative impact of the climate crisis by creating and making opportunities out of it.
In a surprise announcement last week, after approval by the board and partners, the names were released to the press. The exciting news was the emergence of a 12-year-old high school (Secondary) student at Mercy Technical High School, Isiala-Ngwa, Abia state in Nigeria Ms. Akaeme Chioma Favour as one of the recipients of the scholarship opportunity provided by the organization. 
Ms. Akaeme last month emerged overall best student at the just concluded Actions for Earth – Global Youth competition held in Singapore, the event was organized by the Hemispheres Foundation a not-for-profit/social enterprise that provides educational programs and information to schools, community, and individuals to promote awareness and informed personal actions concerning environmental and health issues. Dr. Gbujie, CEO of Team54Project International explained that such a young girl should be encouraged, and with her interest in finding solutions to environmental challenges, it is only suitable to offer her the opportunity through this program.  
The Principal Rev. Sis. Chibiko Ifeoma Lilian of Mercy Technical High School who also is a climate advocate stated that she was surprised and extremely happy for the honor and privilege to be recognized for the scholarship along with her student, she explained that it will go a long way to inspire others and she is grateful to the organization for making this happen. Furthermore, our organization's ECO-Hero Award winner for 2022 Dr. Shruthi Keerthi, is also a recipient of the scholarship, as a standing rule within the organization, ECO-Hero Awardees interested in any opportunity within the organization are given first rights of refusal and are automatically considered.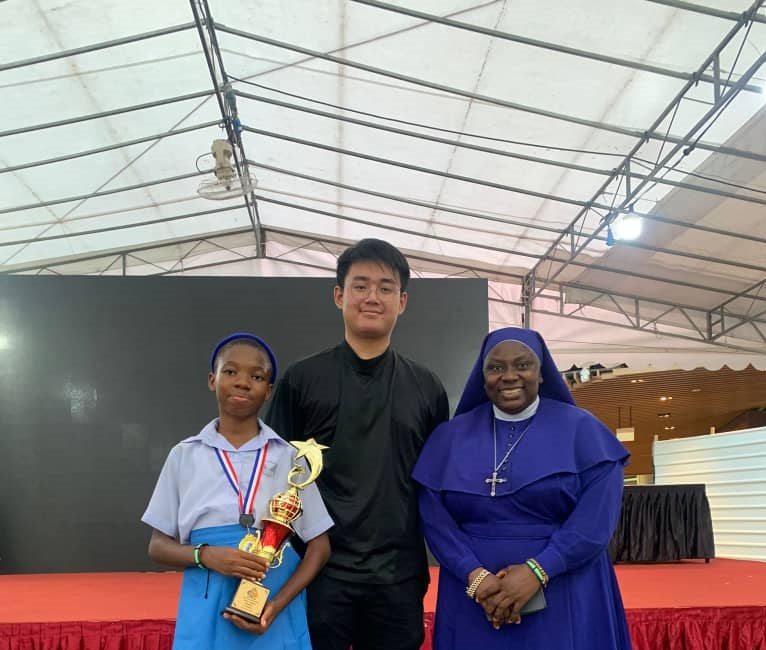 Her tremendous work has seen her travel to the most populated country in Asia and Pacific Island nations promoting our organization's values and inspiring women to be earth warriors and stewards of natural resources.
Other scholarship recipients who have been outstanding members of the Team54project Community are:  
1. Ms. Minette Mponwe (Cameroon)  
2. Chigozirim Ojiugo O'nyeneho (United States)  
3. Emmanuel Lobijo Justine (South Sudan)  
4. Ms. Jewel Jargbah (Liberia)
5. Solomon Oluwaseun Samson (Nigeria)  
6. Dr. Shruthi Keerthi (India)  
"The above-named recipients have risen to the top of climate advocacy within our organization and in their local space because they are passionate and have dedicated themselves to seeing a better Earth emerge. The scholarship selection team had a tough time selecting from over 159 nominees who we believed are deserving, however, the names released are just remarkable people and their background stories are all inspiring, they are doing a lot for their community and our organization." Dr. Gbujie said.  
Ms. Minette Mponwe speaking on behalf of the scholarship recipients within the organization expressed her appreciation to the management and board of team54project and the partners involved, "As you can see climate change is no longer a textbook issue, it's a real human issue with complicating impact and disaster, therefore there is a need to get everyone involved, since joining Team54project I have come to know that climate crisis causes disruptions in every sector of human lives and everyone including myself will need to take action personally and collectively to resolve it. She continued by saying the solutions whether indigenous and modern already exist, sadly it's the willingness of the leaders, government, and the people and the behavioral changes that are required in moving forward, so it was kind of just something that made sense to be part of a group working to empowering young people and vulnerable community," she said.  
Kathy Puffer explained that the training has a 3-month teaching component that explains how to create biogas and bio-fertilizers as a product and a one-year all-around support will be given to the participant in this Cohort. She explained that by December 12th, 2022, all successful participants in the cohort will have been communicated and class starts on the 14th of December 2022.  
Kathy who is also the co-founder of Solar Cities an organization making renewable energy access to vulnerable populations in developing nations, explained that she is so happy to see such a passionate array of scholars within the dedication to the well-being of their people, and the preservation of the environment developing capacity is integral to building a resilient community. For those that are not part of the scholarship program, a discount will be offered when they apply, she said  
Each person must show they have demonstrated leadership and commitment in their communities.
Congratulations to all the winners