Wednesday 27th of March 2019, will not be forgotten quickly by Solomon Oluwaseun Sampson the local coordinator of Team 54 Project in Nigeria.

It was a day he began the Team 54 Project School-based Climate Advocacy Campaign in Ayetoro which is about 35 km northwest of Abeokuta, a town in south-west part of Nigeria and the capital of Ogun State. Ayetoro is the administrative seat/headquarters of Yewa North Local Government Area and strategic connected to Lagos the most populous state in Nigeria by road and rail and serving as an important route to carry raw materials. It is located in the savanna agro-ecological zone and there subject to the changing season.
''It did not come as a surprise to my management that I was starting the organization school-based climate advocacy campaign", Mr Solomon said.
He explained to the teachers and administrators Mrs Okoudoh Esther at the Luckesthy international school and Ms. Asiovu Grace of the City choice private school school in Ayetoro Ogun State that children are supposed to inherit a healthy sustainable Earth from adults but somehow adults may not handle over a green Earth because they have been acting responsibly toward the natural resources.
This was primarily the reason, Solomon decided to take the climate advocacy message to kids in Ayetoro, who are more considerate, caring, smart and are receptive to the message of protecting the Earth compared to the generation that raised them.
The School-Based Climate Advocacy Project involved fun activities like painting, video demonstration and speech of climate change .
He said that he felt unhappy whenever he think of what his generation and every generation before him has done and the unfortunate challenge these kids will face by the time they reach adulthood. "they'll have to deal a lot of environmental problems on top of the unending socio-economic problems that effect the country.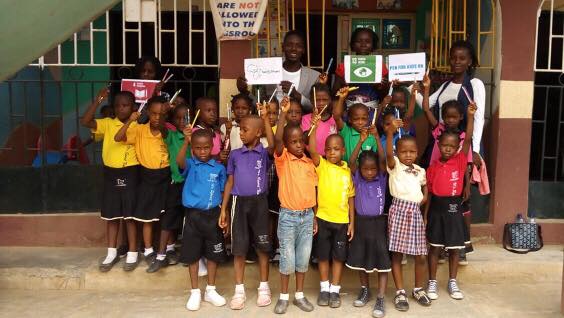 The pupils were educated about the impacts of climate change and the roles of trees planting as a land-based mitigation strategy , that Team 54 Project embarks across the globe.
"I will be sharing stationaries and other writing materials as gifts to kids too, the school really appreciate my organization presence and the kids were so happy to be introduced to the topic of climate change." he said.
Written by Fasorinde Ayamide